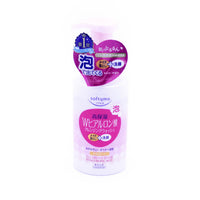 Softymo Hyaluronic Form Ceanging Foam 200Ml Kose
Added beauty ingredient "Double Hyaluronic Acid"
Two types of hyaluronic acid are added, "Moisturizing" and "Protecting Moisture". Provides moisture to the skin and maintains moisture for a long time.
Add "Moisturizing Soft Silk Ingredients".
It has the function of protecting the skin, so that the moisturizing ingredients will not be removed together with the makeup and sebum dirt, and the skin can still be hydrated after removing the makeup and washing the face.
Contains 5 kinds of plant extracts, while washing your face, it can also generate dense foam, thick and delicate, gently wash away the dirt on the face, and the soft touch feels like doing a SPA for the facial skin: pine tree essence-promoting Skin renewal; Chinese fir extract - makes the skin plump and elastic; hop essence - has astringent and soothing effect; Lemon essence - rich in vitamin C, gently exfoliates old dead skin cells; rosemary essence - can promote circulation and has antioxidant properties It can effectively prevent the problem of muscle aging.
Makeup remover and face wash done in one go. Make-up that is not easy to remove and dirt deep in the pores are removed in one go.
The rich and dense foam can completely remove the make-up that is difficult to remove and the dirt deep in the pores.
When not wearing makeup, it can be used as a general facial cleanser.
How to use: Take an appropriate amount of this product on the palm (about 2-3 times of pressing the nozzle), add a small amount of water and rub until foaming, gently massage the face, and finally rinse with water.
【Precautions】
●Do not place in a high temperature place to avoid deterioration of the product!
●Do not use if the skin is abnormal such as wounds, pustules, eczema, etc.
●After use, please discontinue use if any abnormalities such as redness, swelling, itching, or irritation occur, and consult a professional dermatologist.