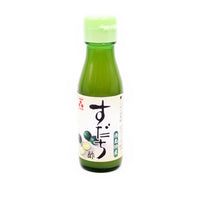 創業1893年、徳島「加賀屋醤油」の「すだち酢 100g瓶」

徳島県神山町産すだち果汁100%使用。
手軽に使え、お料理やドリンクの香味づけ、オリジナルのタレづくりに最適です。フレッシュでさわやかな香りと、さっぱりした味わいをお楽しみいただけます。
Founded in 1893, Tokushima's Kagaya Soy Sauce 100g Bottle of Sudachi Vinegar

Made with 100% sudachi juice from Kamiyama, Tokushima Prefecture.
Easy to use, ideal for flavoring food and drinks, and for making original sauces.
You can enjoy a fresh and refreshing scent and a refreshing taste.