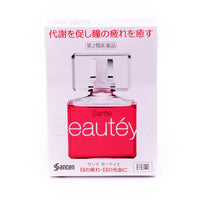 代謝を促し瞳の疲れを癒す
サンテボーティエは、いつまでもみずみずしくクリアな瞳を求める方のための目薬です。
紫外線や排気ガスの多い現代の生活環境、寝不足、偏った食生活など、私たちの瞳は日々さまざまなストレスにさらされています。そうした影響が蓄積されて瞳の不快感などにつながることもあります。
サンテボーティエは疲れを癒し、充血のない健やかな瞳に近づけるために、瞳のターンオーバー(代謝)を促進するタウリンや、角膜を保護・保湿するコンドロイチン硫酸エステルナトリウム、目の中の筋肉の疲れを癒す赤いビタミンB12など5つの成分を最大濃度※配合しています。
Promotes metabolism and heals tired eyes
Sante Beauté is an eye drop for those who want fresh, clear eyes forever.
Our eyes are exposed to various stresses every day, such as the modern living environment with a lot of ultraviolet rays and exhaust gases, lack of sleep, and unbalanced eating habits. Such effects can accumulate and lead to discomfort in the eyes.
Sante Beautéer contains taurine, which promotes the turnover (metabolism) of the pupil, sodium chondroitin sulfate ester, which protects and moisturizes the cornea, and muscle fatigue in the eye, in order to relieve fatigue and promote healthy eyes without hyperemia. Contains 5 ingredients such as red vitamin B12, which heals the skin, at the maximum concentration*.