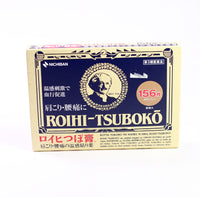 Roihi-Tsuboko Ko Coinpatches
貼りやすく、ピンポイントに効く、直径2.8センチの丸形です。
トウガラシ成分に似たノニル酸ワニリルアミドによる辛口の温感の刺激が、患部の血行を促進します。
肌になじむベージュ色なので、目立ちません。
よくつくので、激しく動いてもはがれにくく、貼っていることを忘れるほどの貼り心地です。
素材のレーヨン布は水に強く、ちょっとの汚れは寄せつけません。
It is easy to apply and has a round shape with a diameter of 2.8 cm that is effective for pinpointing.
Nonylic acid vanillyl amide, which resembles a chili pepper component, promotes blood circulation in the affected area with a dry, warm sensation.
The beige color blends well with the skin, so it doesn't stand out.
It sticks well, so it won't come off easily even when you move vigorously, and it's so comfortable that you forget you've got it on.
The rayon cloth used is water-resistant and does not get dirty easily.