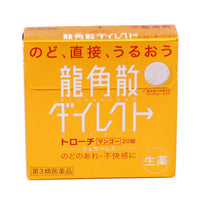 Ryukakusan Direct Mango/龍角散 龍角散ダイレクトトローチマンゴー 20錠
微粉末にした生薬を配合した唯一のトローチです。
「のどがイガイガ」する時や「声を出しすぎた」時などに口に含んで、かまずにゆっくりと溶かすように服用してください。
生薬成分がのどの粘膜に直接作用し、弱ったのどの働きを回復させます。
マンゴーの香りとメントールを含んだマイクロビーズをトローチに散りばめているので、服用している間、清涼感と芳香が、長く口の中にひろがります。爽やかな味のトローチです。
6錠(大人の1日服用量)中
キキョウ末・・・70mg
キョウニン・・・5mg
セネガ末・・・3mg
カンゾウ末・・・50mg
添加物:無水ケイ酸、クエン酸、D-ソルビトール、ステアリン酸Mg、ゼラチン、グリセリン、リボフラビン、l-メントール、香料
This is the only lozenge that contains finely powdered herbal medicine.
When you have a scratchy throat or have made too much noise, put this medicine in your mouth and let it dissolve slowly without chewing.
The herbal medicine ingredients act directly on the mucous membranes of the throat, restoring weakened throat function.
The lozenges are studded with microbeads containing mango scent and menthol, so the refreshing sensation and aroma linger in your mouth for a long time while you take them. It is a lozenge with a refreshing taste.
6 tablets (adult daily dose)
Bellflower powder...70mg
Kyonin...5mg
Senega powder...3mg
Licorice powder...50mg
Additives: Silicic anhydride, citric acid, D-sorbitol, Mg stearate, gelatin, glycerin, riboflavin, l-menthol, fragrance