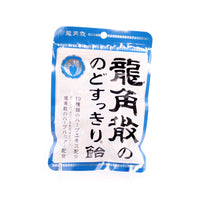 カモミールとカリンを主原料に配合した極細の龍角散パウダー配合。

のどにやさしい19種類のハーブエキスを配合。

のどが乾いたときやイライラしたときに、リフレッシュできます。

ブレンド製法により、味と風味が長持ちします。
Containing super fine Ryukakusan powder blended with chamomile and Chinese quince as the main ingredient.
Contains 19 kinds of herbal extracts good for your throat.
You can enjoy refreshing yourself when your throat is dried or irritated.
The blending method allows taste and flavor lasts longer.