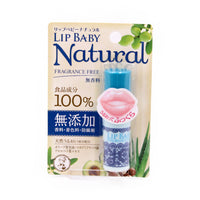 Lip Baby Natural Fragrance Free Rohto/メンソレータム リップベビー ナチュラル 無香料
●「メンソレータム リップベビー ナチュラル」は、天然うるおい成分(オリーブ果実油、マカデミアナッツ油、アロエベラ葉エキス)配合の、食品成分100%にこだわったリップクリーム
●唇の荒れ・乾燥を防ぎ、ふっくらした唇に。なめらかな塗り心地で、自然なつやを与えます。
●無香料・無着色・防腐剤フリー
●香りが苦手な方にもおすすめの「無香料」です。

【成分】:オリーブ果実油、マカデミアナッツ油、水添アボカド油、ミツロウ、キャンデリラロウ、アロエベラ葉エキス、ヤシ油、マイクロクリスタリンワックス、カルナウバロウ、ブドウ種子油、ローズヒップ油、ハトムギ油
● [Mentholatum Lip Baby Natural] is a lip balm that contains natural moisturizing ingredients (olive fruit oil, macadamia nut oil, aloe vera leaf extract) and is particular about 100% food ingredients
● Prevents chapped and dry lips and makes lips plump. It has a smooth feel and gives a natural luster.
● Fragrance-free, colorant-free, preservative-free
● It is [fragrance-free] recommended for those who are not good at fragrances.

[Ingredients]: Olive Fruit Oil, Macadamia Nut Oil, Hydrogenated Avocado Oil, Beeswax, Candelilla Wax, Aloe Vera Leaf Extract, Coconut Oil, Microcrystalline Wax, Carnauba Wax, Grape Seed Oil, Rosehip Oil, Astragalus Oil