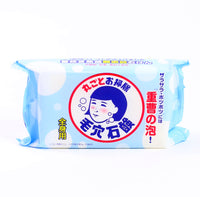 Baking Soda Soap Ishizawa Keana Nadeshiko
Easy to wash, clean your whole body!
The secret to smooth egg skin is creamy foam containing baking soda (sodium bicarbonate: cleaning ingredient).
It loosens old keratin and lifts dirt from the depths of pores.
Because it is 100% vegetable oil-based, it is rich in moisture and has a high-quality lather.
It is a natural and eco-friendly soap.
Ingredients: Sekken soji, sodium bicarbonate