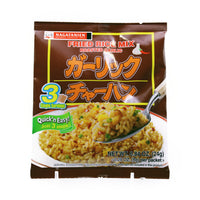 Garlic Cha-han no Moto 3p Nagatanien
It is a powder type fried rice base that can be made by simply preparing eggs and rice and frying in a frying pan for 3 minutes.
The ingredients used are garlic powder, which gives the whole fried rice a flavor, and roasted garlic, which gives a savory flavor. You can enjoy the crisp taste of garlic.
えび、鶏肉など五目の具が入った粉末タイプのチャーハンの素です。
卵とご飯を用意してフライパンで3分炒めるだけで、簡単にパラッとしたおいしいチャーハンができあがります。ねぎ香味油で、香ばしいねぎの風味が際立つ味わいに仕上げました。
Ingredients:
Seasoning powder (salt, starch, sugar, garlic powder, powdered soy sauce, vegetable oil, onion powder, pepper, chili) (domestic production), roasted garlic, seasoned pork, flakes (rice flour, starch, defatted soybeans, sugar, salt, Vegetable fats and oils), dried onions / seasonings (amino acids, etc.), caramel pigments, fragrances, antioxidants (vitamin E, vitamin C), citric acid, (some include wheat, soybeans, and pork)