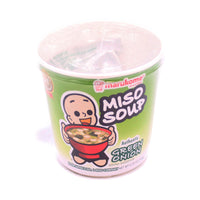 Marukome Fd Miso G Onion Cp
Our Green Onion Instant Miso Soup Cup is one of the easiest ways to enjoy authentic and healthy miso soup. Our all natural ingredients are in a ready-to-eat soup cup for your convenience. Just add hot water!
Powdered Miso (Soybeans [Non-genetically Modified], Rice, Salt), Dextrin, Dried Green Onion, Dried Wakame Seaweed, Wheat Gluten Cake, Powdered Yeast Extract, Bonito Powder, Vitamin E.