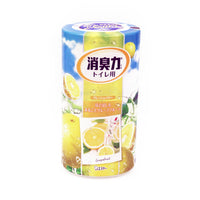 Shoshu-Riki Deodorizer For Toilet Grapefruit 13.
植物抽出の消臭成分にカテキンをプラスし、気になるニオイを強力に消臭するトイレ用消臭剤です。
ラベルフィルムをはがせばデザインすっきり、バックプリントが映えるパノラマボトル。
カラーキャップの上げ下げにより香りの強さが選べる、香り調節機能付き。
400mlの大容量なので効果は長持ち、ほのかな香りが約2-3ヶ月持続します。
グレープフルーツの香り。
*香りを強くした場合は、通常より使用期間が短くなります。
A deodorant for toilets that strongly eliminates unpleasant odors by adding catechin to deodorizing ingredients extracted from plants.
Peel off the label film to create a panoramic bottle with a neat design and a back print.
Comes with a scent adjustment function that allows you to choose the strength of the scent by raising or lowering the color cap.
With a large capacity of 400ml, the effect lasts for a long time, and the faint scent lasts for about 2-3 months.
Aroma of grapefruit.
*If the scent is stronger, the usage period will be shorter than usual.