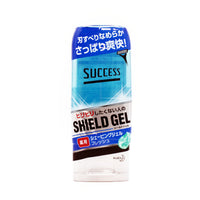 Success Shaving Jel Fresh 180G Kao
Two gliding ingredients (carrageenan and highly polymerized PEG (base)) adhere to the skin for long-lasting glide, and the blade does not stick even after two or three shaves for a smooth shave.
This product is designed to give you a deep shave from the root up, with plenty of moisture to soften your beard.
Medicated type to prevent razor burn.
Shave immediately without wetting.
Contains fresh menthol (coolant) for refreshing, crisp skin.
For use with safety razors.

2K glycyrrhizate*, purified water, PEG-12, ethanol, carrageenan, highly polymerized PEG, tuberose polysaccharide solution, menthol, sorbitol, POE isocetyl ether, carboxyvinyl polymer, sodium hydroxide solution, paraben, edetate, fragrance, blue 1
*indicates active ingredients; no indication indicates other ingredients.