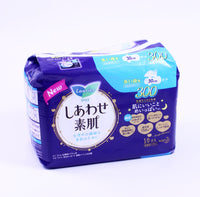 Laurier F Sanitary Napkin Re
Fit to the skin softly.

 
Newly developed touch absorbing body is a new structure that changes shape supple.

 
It seems that you are gentle towards the movement of the body, so even if you turn over it is hard to rub off against the skin.

 
Absorbs firmly the menstrual blood of the night with many uneven sheets on the surface.

 
Until in the morning, will not stick uncomfortable stuff.