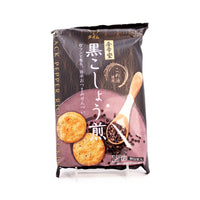 Kuro Kosho Sen 102G Kingodo
A lightly grilled rice cracker from the crisp time series.
For the seasoning, we use a soy sauce sauce that is a unique blend of two types of soy sauce.
For the finish, we used black pepper made by the fragrant roll mill method, and finished it with a taste that emphasizes the taste even in the spiciness.
パリッとタイムシリーズの、うす焼きタイプのお煎餅です。
下味には2種類の醤油を独自にブレンドした醤油だれを使用。
仕上げには、香るロールミル製法で作られたブラックペッパーを使用し、辛さの中にも旨さが引き立つ味わいに仕上げました。