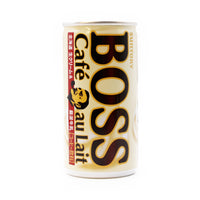 Suntory Boss Cafe Au Lait 185G
缶コーヒー市場で安定的な人気を誇るカフェオレタイプにおいて、「ボス カフェオレ」は、北海道産生クリームと厳選した牛乳に、深煎りコーヒーが香る、大人のまろやかなカフェオレとして、お客様から高い評価をいただいています。
ご好評いただいている飲みやすさは維持しながらもしっかりとしたミルク感と甘さをより感じられる味わいを実現しました。
In the cafe au lait type, which boasts a stable popularity in the canned coffee market, "Boss Cafe au lait" is highly evaluated by customers as an adult mellow cafe au lait with a scent of deep roasted coffee in Hokkaido cream and carefully selected milk. It has received.
While maintaining the popular ease of drinking, we have achieved a taste that gives you a firmer milky feel and sweetness.
Ingredients: Milk, sugar, coffee, skim milk, cream, skim concentrated milk, whole milk powder, dextrin, casein Na, fragrances, emulsifiers, stabilizers (carrageenan)
CALIFORNIA PROPOSITION 65 : WARNING: Consuming this product can expose you to chemicals including acrylamide which are known to the State of California to cause cancer and birth defects or other reproductive harm. For more information go to www.P65Warnings.ca.gov/food.