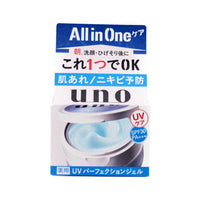 Uno All In One Gel For Acne 80G Shiseido Fitit
● All-in-one gel which can treat skin, acne prevention, ultraviolet rays care by one! In the morning, this one is OK after cleansing and shaving.
All-in-one gel cream for all-season. Multi-function to prevent skin roughness / acne / shiny face / dryness / UV.
● Formulation of m-tranexamic acid that prevents skin irritation and melanin formation and prevents spots and freckles.
● Acne and razor blending "Glycyrrhizinate dipotassium" formulation.
● non-sticky and cool feeling.