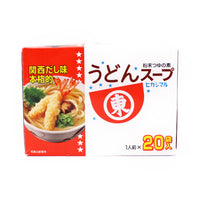 Udon Soup(L) 144G Hi-Maru
"Udon soup" allows you to easily enjoy the flavorful udon soup just by dissolving it in hot water.
This authentic Kansai-style udon noodles are made with the umami of Hokkaido kelp and the richness of dried bonito flakes, and finished with this brewed light-mouthed soy sauce.
Because it is soup stock, it can be widely used for various menus such as soup stock, omelet rolls, cooked rice, chawanmushi, and oden.
お湯にサッと溶かすだけで、風味豊かなうどんだしが手軽に味わえる「うどんスープ」。
北海道産真昆布のうま味と鰹節のコクをふんだんにきかせ、本醸造淡口しょうゆで仕上げた、本格的な関西風うどんだしです。
だしがきいているから、お吸物、だし巻き玉子、炊き込みごはん、茶碗蒸し、おでんなど、いろんなメニューに幅広く使用できます。
Ingredients:Salt, powdered light soy sauce, sugar, glucose, powdered soy sauce, onion, soy protein enzyme decomposition product, dried bonito, kelp powder / seasoning (amino acids, etc.), caramel pigment, (some include wheat and soybeans)