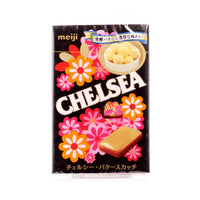 Butter Scotch Chelsea 45G Me
Feel the impeccable, mesmerizing, flawless, and unforgettable taste of Chelsea-style butterscotch candies in Meiji Candy Chelsea Butterscotch from Japan, 1.58 oz (45 g), which will leave you flabbergasted, dazed, and staggered at once! Its unique, exceptional, and sterling notes of Chelsea-style butterscotch are all you could ask for!
Ingredients: Sugar, corn syrup, butter, dextrose, whey powder, vegetable oil, dextrin, caramel syrup, salt, emulsifier, caramel coloring, amino acid. Contains milk, soy.