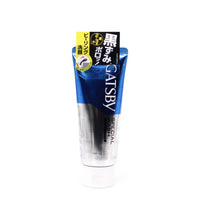 Gatsby Special Mild Peeling Wash 3.5Oz(100G) Man
A peeling facial wash for pore cleaning 2-3 times a week!

It removes dirt and dead skin cells effectively with skin-friendly plant-derived fine particle beads.
Contains AHA (lactic acid: keratin softening ingredient) and amino acid-based moisturizing ingredient (betaine) to help remove excessive sebum and leaves your skin clear, neat, and supple.