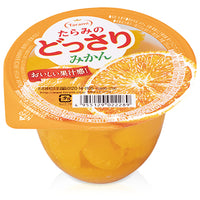 Mikan Dossari Jelly 230G Tar
A jelly that allows you to fully enjoy the blessings of nature anytime, anywhere.
The deliciousness of the fruits carefully selected by Tarami is kept in a jelly with a refreshing juice.
The freshness of the mandarin oranges and the deep juice of the oranges are added to the palatable, plump and fresh jelly that makes the mandarin orange flesh juicy.
自然の恵みが、いつでもどこでも、たっぷり味わえるゼリーです。
たらみが厳選したフルーツの美味しさをそのまま、すっきりとした果汁感あるゼリーに閉じ込めました。
みかんの爽やかさに、オレンジの深みある果汁感をプラスした、口当たりの良い、ぷるんとしたみずみずしいゼリーが、みかん果肉をジューシーに引き立てます。