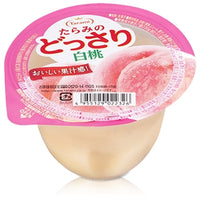 Peach Dossari Jelly 230G Tar
A jelly that allows you to fully enjoy the blessings of nature anytime, anywhere.
The deliciousness of the fruits carefully selected by Tarami is kept in a jelly with a refreshing juice.
The plump and fresh jelly, which is like a whole white peach squeezed and has a fresh juice feeling, makes the white peach flesh juicy.
自然の恵みが、いつでもどこでも、たっぷり味わえるゼリーです。
たらみが厳選したフルーツの美味しさをそのまま、すっきりとした果汁感あるゼリーに閉じ込めました。
白桃をまるごとしぼったような、みずみずしい果汁感ある口当たりの良い、ぷるんとみずみずしいゼリーが、白桃果肉をジューシーに引き立てます。