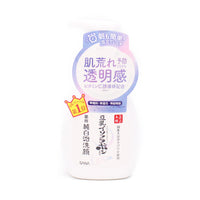 Sana Nameraka Cleansing Mousse Tune Up
Pure white foam face wash of soy milk. With a simple push even on a busy morning, you can wash your skin with a transparent feeling while preventing rough skin and acne.
<How to use>
At the beginning of use, remove the stopper and push the pump several times until the contents come out. Lightly moisten your face, pick up an appropriate amount (about 2 to 3 pushes) and wash. Then rinse with water or lukewarm water.
Dipotassium glycyrrhizinate *, water, N-palm oil fatty acid acylglycine potassium solution, BG, sorbit solution, multitoll solution, 2-alkyl-N-carboxymethyl-N-hydroxyethyl imidazolinium betaine, soymilk fermented solution, soybean extract, L-ascorbyl magnesium phosphate, EDTA-2Na, ethanol, lauroylmethyl-β-alanine sodium solution, potassium hydroxide, phenoxyethanol * marks are active ingredients. * Items not marked are other ingredients.