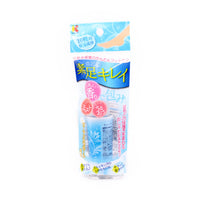 Assy Fresh Footcare Mist Kinkan
A foot lotion containing 8 moisturizing ingredients and 2 refreshing moisturizing ingredients.
・Can be used barefoot or over stockings, and can be used upside down.
・You can easily moisturize your feet anytime, anywhere. It dries quickly and does not leave a white residue.
・Roman chamomile scent.
・Because it is a convenient size to carry around, it is easy etiquette to use before a date, a dinner party, or before going out.
Product name Assy Foot Care Mist
Contents 30ml
How to use Spray evenly on the soles of your feet and between your toes.
Precautions ●Please use carefully to make sure that there are no abnormalities on your skin.
Discontinue use if cosmetics do not suit your skin, that is, in the following cases. If you continue to use cosmetics as it is, the symptoms may worsen, so we recommend that you consult a dermatologist.
(1) When abnormalities such as redness, swelling, itchiness, irritation, color loss (white spots etc.) and darkening appear during use.
(2) When the skin used is exposed to direct sunlight and the above abnormalities appear.
●Do not use on areas with abnormalities such as wounds, swelling, or eczema.
●Be careful not to get this in your eyes. If it gets in, immediately wash it off with running water without rubbing it. If you feel a foreign object in your eyes, please consult an ophthalmologist.
●Do not store in places with high or low temperatures or in direct sunlight.
●Keep out of reach of infants.
●For external use only.
All ingredients: Ethanol, water, BG, glycerin, PEG-60 hydrogenated castor oil, sulfuric acid (Al/K), α-glucan oligosaccharide, sodium hyaluronate, glycosyltrehalose, hydrolyzed hydrogenated starch, Yoshino cherry leaf extract, tea leaves Extract, peony root extract, licorice root extract, amacha extract, Argania spinosa kernel oil, zinc sulfate, PCA-Na, persimmon tannin, malic acid, glycine, rhamnose, glucuronic acid, glucose, sodium citrate, propanediol, fragrance.