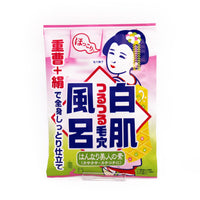 Pore Clear Bath Salt Ishizawa Keana Nadeshiko
[Product details of Keana Nadeshiko baking soda white skin bath]
●One of the long-loved "beauty hot springs" is a sodium bicarbonate spring with an alkaline pH of 8.5 or higher. Baking soda, which lifts up sebum and dirt, softens the hot water and softens dead skin cells. After taking a bath, you will be smooth and moist!
● "Baking soda" *1 + "Silk" *2 + "Rice bran" *3 + "Soymilk fermented extract" *3
●Scent of face powder
*1 Na bicarbonate (cleansing ingredient) *2 Hydrolyzed silk (moisturizing ingredient) *3 Moisturizing ingredient

【how to use】
・Add 1 packet (30g) to hot water (150-200L) in your bathtub, stir well before bathing.

【component】
Sodium bicarbonate, sodium carbonate, sodium sulfate, sodium sesquicarbonate, titanium oxide, sodium polyacrylate, hydrolyzed silk, hydrolyzed silk, rice bran oil, fermented soy milk, bentonite, polyacrylic acid, PEG-75 stearate, PEG /PPG-300/55 copolymer, water, DPG, BG, silica, ethanol, methylparaben, red 102, fragrance
【Notes】
・Should this disagree with your skin, discontinue use.
・If this product is spilled on the floor, etc., it will absorb water and become slippery, so please remove it immediately.
・Be careful where you step, as the floor of the bathtub and bathroom will become slippery.
・Do not use for purposes other than bathing.
・This product cannot be eaten. If a large amount is swallowed, take measures such as drinking water. If you have an abnormality on your skin or constitution, consult a doctor before using.
・Should you observe any abnormalities such as rash, redness, itchiness, or irritation during or after use, discontinue use and consult a dermatologist. If you continue to use cosmetics as it is, it may get worse.
・Keep out of reach of infants.
・Do not use hot water to wash your hair or face.
・Do not wash with leftover water.
・If leftover water is left unattended, white turbid components will easily adhere to the bathtub, so drain the hot water immediately after bathing, and wash the bathtub, the inside of the bath pot, the filter of the circulation hole, etc. with water. Please do not use it for a 24-hour circulation bath.